*** Celebrating Black History Month ***
Rosa Parks
"People always say that I didn't give up my seat because I was tired," wrote Parks in her autobiography, "but that isn't true. I was not tired physically… No, the only tired I was, was tired of giving in."
Although her arrest on December 1, 1955, was one of the sparks of the modern Civil Rights Movement, Rosa Parks was a community activist well before that date. Rosa Parks and her husband, Raymond Parks, were activists and organizers in their Montgomery, Alabama community. She joined the NAACP in 1943 and served as the chapter's Secretary, working closely with chapter president E.D. Nixon. During this time, she investigated and sought justice for Black victims of bigotry, most famously for the sexual assault of Recy Taylor in 1944.
The Montgomery Bus Boycott started on 12/05/1955 and lasted until 12/20/1956. Mr. Dixon, of the NAACP, had been looking for someone to be a representative to test the segregation laws of the time. After Rosa Parks made bail and was released from jail on her bus violation arrest, Mr. Dixon convinced her to be that representative. During the week between her arrest and trial, the Montgomery Bus Boycott was born.
Rosa Parks was initiated into Alpha Kappa Alpha Sorority, Incorporated as an Honorary Member in 1988.
The Pride of the Ivy - Honorary Members
Constance Baker Motley
She was born in New Haven, Connecticut, the ninth of 12 children. Her mother was the founder of the New Haven NAACP.
She earned a degree in economics from New York University and a law degree from Columbia Law School in 1946.
In 1945, she became a law clerk to Thurgood Marshall, chief counsel of the NAACP's Legal Defense fund.
Over the next two decades, se worked on some of the nation's most important civil rights cases, including Brown v. Board of Education of Topeka, the case in which the Supreme Court ruled segregation in public schools unconstitutional.
She worked on a case in Little Rock in 1957 that led President Eisenhower to call in federal troops and led the legal charge to win James Meredith's entry into the University of Mississippi in 1962.
In 1964, Constance Baker Motley became the first black woman to serve in the New York Senate. She became a federal judge in 1966, the first black woman appointed to the federal bench.
Judge Motley was initiated into Alpha Kappa Alpha Sorority, Incorporated as an Honorary Member in 1967.
Coretta

Scott

King
She was an American author, activist, civil rights leader, and the wife of Martin Luther King, Jr. An advocate for African-American equality, she was a leader for the civil rights movement in the 1960s. They both became increasingly active in the American civil rights movement.
King played a prominent role in the years after her husband's assassination in 1968 when she took on the leadership of the struggle for racial equality herself and became active in the Women's Movement. King founded the King Center and sought to make his birthday a national holiday. She finally succeeded when Ronald Reagan signed legislation which established Martin Luther King Jr. Day on November 2, 1983. She later broadened her scope to include both advocacy for LGBT rights and opposition to apartheid. King became friends with many politicians before and after Martin Luther King's death, including John F. Kennedy, Lyndon B. Johnson, and Robert F. Kennedy. Her telephone conversation with John F. Kennedy during the 1960 presidential election has been credited by historians for mobilizing African-American voters.
She was inducted into the Alabama Women's Hall of Fame, the National Women's Hall of Fame, and was the first African American to lie in state at the Georgia State Capitol. King has been referred to as "First Lady of the Civil Rights Movement".
Coretta Scott King was initiated into Alpha Kappa Alpha Sorority, Incorporated as an Honorary Member in 1967.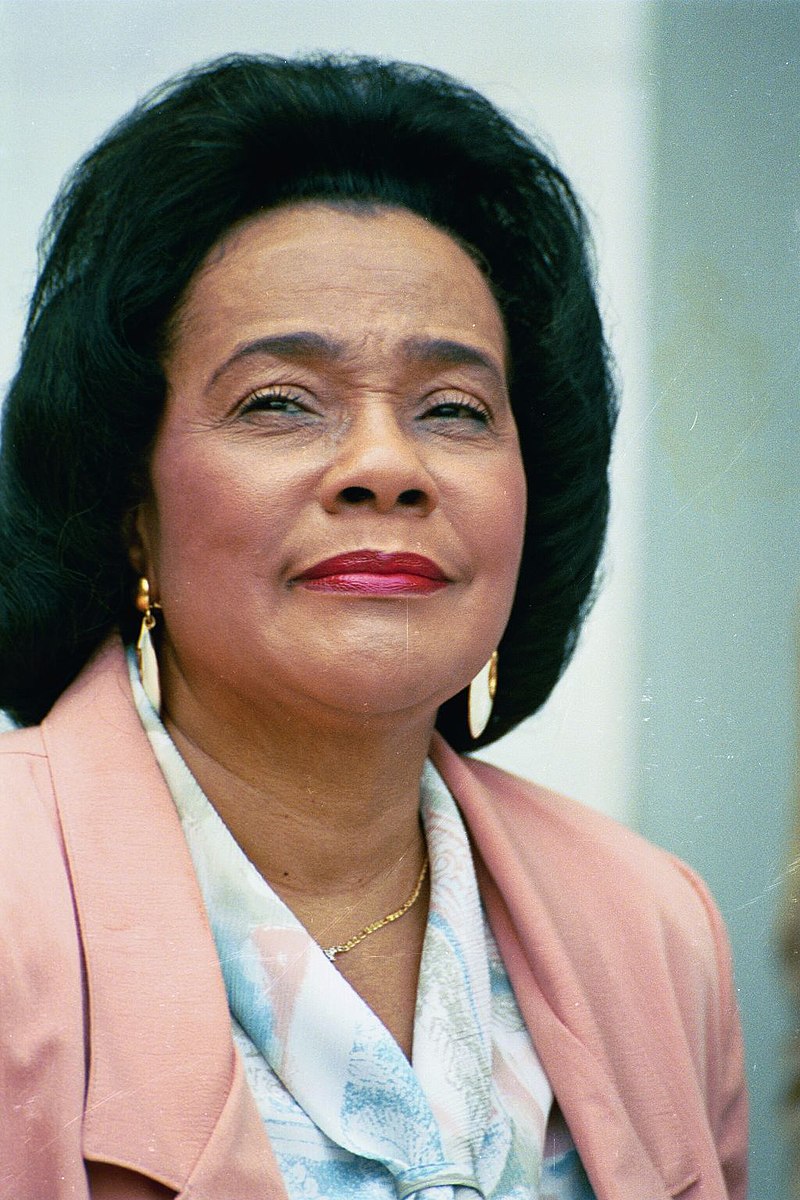 Mae Jemison
She was born October 17, 1956, and is an American engineer, physician, and former NASA Astronaut. She became the first black woman to travel into space when she served as a mission specialist aboard the Space Shuttle Endeavour. Jemison joined NASA's astronaut corps in 1987 and was selected to serve for the STS-47 mission, during which she orbited the Earth for nearly eight days on September 12–20, 1992.
Born in Alabama and raised in Chicago, Jemison graduated from Stanford University with degrees in chemical engineering as well as African and African-American studies. She then earned her medical degree from Cornell University. Jemison was a doctor for the Peace Corps in Liberia and Sierra Leone from 1983 until 1985 and worked as a general practitioner. In pursuit of becoming an astronaut, she applied to NASA.
Jemison left NASA in 1993 and founded a technology research company. She later formed a non-profit educational foundation and through the foundation is the principal of the 100 Year Starship project funded by DARPA. Jemison also wrote several books for children and appeared on television several times, including in a 1993 episode of Star Trek: The Next Generation. She holds several honorary doctorates and has been inducted into the National Women's Hall of Fame and the International Space Hall of Fame.
Mae Jemison was initiated into Alpha Kappa Alpha Sorority, Incorporated as an Honorary Member in 1988.